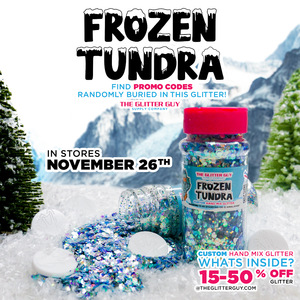 Frozen Tundra is a hand mixed custom glitter that's exclusive for official TGG reseller stores! 
Will you be so lucky to find one of the frozen footprints with a promo code inside (ranging from 15-50%)?! 

Comes in 100mL shaker filled by volume

Custom Hand Mix Glitter
Beautiful and vibrant colors
I love this glitter. The color is super vibrant. For a chunky glitter, it is light as a regular. I would definitely buy more.
Awesome Glitter
It's absolutely beautiful