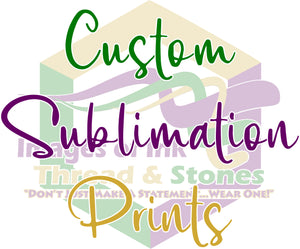 Interested in trying sublimation but don't have the proper equipment or not wanting to purchase more equipment...then you are in the right place. We print our sublimation transfer using the highest quality inks that will get you a vibrant and colorful print every time.

We aim to make the ordering process a simple as possible. So, it's just three simple steps.

Step 1. Download the appropriate size sublimation sheet template (free from the website). Be sure to keep all graphic INSIDE THE DOTTED LINES.
Step 2. Email your print ready graphics or artwork prior to ordering, we can give it a once over to make sure you will get the results you are looking for. Acceptable file types are .jpg, .pdf, or .png Our email is info@imagesofink.com

Step 3. Once approved, select the paper size you need and the number of sheets as well. You can mix it up and have different sizes too. Remember you can have multiple designs per sheet, otherwise known as ganging. After checkout remember to email us your graphics and include your name and order number in the subject line. If we run into any problems, we will get back to you to fix the issue.

After that all you have to do is sit back and imagine how awesome your prints will look. It won't take us more than a couple of days to get your transfers mailed out to you.

IMPORTANT!! PLEASE MAKE SURE TO READ ALL THE INFORMATION BELOW

Artwork/Graphic File Requirements:
Acceptable file types: JPG, PDF, and PNG
Resolution: 300 dpi

Please send your file in its normal orientation, we will do the mirroring when we print it. Of course, if you don't want it mirrored, make sure to let us know beforehand.

Also, remember that the output is only as good as the input. So, images that are blurry or pixelated will not get any better. If you pulled something off the internet, make sure the file will work and you have the rights to print it.

FAQ/PLEASE READ THIS SECTION CAREFULLY, THIS IS WHERE PROBLEMS OCCUR

- Your file(s) need to be PRINT READY; we do not provide graphic design services for these prints. If you have concerns, send us the file first and we can let you know what needs to be fixed.
- Sublimation doesn't work on dark substrates, i.e. black t-shirts or mugs. The fabric or substrate must be white or light colored and made for sublimation. 100% polyester t-shirts provide the best results when printing. Poly blends of at least 50% polyester will work but it will have a slightly distressed/vintage look. 
- You cannot sublimate on 100% cotton, wool or hemp products and any hard goods that do not have a coating made for sublimation.
- You must use a heat press. Your iron will not work.
- Transfers are single use.
- Gang sheets are welcome and encouraged. Use up as much space on the print area as possible, get your money's worth. Please make sure your artwork is grouped prior to sending it to us.
- We will get your transfers printed and shipped within 1-3 business days.

Images of Ink has a no refund policy on sublimation transfers unless we ship you the wrong items. If there is an issue with your transfers, let us know as soon as possible. If color matching is needed, we suggest ordering a test transfer to ensure colors print to your satisfaction.

If you still have questions, email us: info@imagesofink.com

Transfer Sizes/Price
8.5 x 11 - $1.99 per transfer
11 x 17 - $3.99 per transfer
13 x 19 - $5.99 per transfer
Larger print sizes coming soon!
I love the shops and Danisha is amazing!!!
Sublimation Transfer Prints