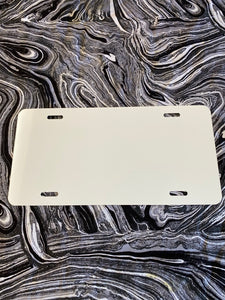 White Gloss, Blank, Aluminum 6" x 12" x .025", License plate for sublimation. These make for beautiful souvenirs for travelers and perfectly compliment any vehicle. License plate comes slotted for easy mounting. Sublimate to the glossy side.
Application Instructions:
Time: 75 secs
Temp: 400* (temperature may vary based on your press)
Pressure: Light
Template available in our Facebook Group

 (Click here to join)
Blank License Plate
I ordered the Blank License Plate for a special order request. The blank arrived quickly and I had no issues sublimating the image onto the product. I will definitely order again.